What preparation do I need to do once I've booked my PADI Divemaster and/or Instructor Development Course (IDC)?
If you want to make sure that your Divemaster and IDC course will be as successful and stress free as possible we highly recommend that you prepare and self-study before you arrive on Koh Tao. If you are worried about your course and don't know how to prepare for your PADI Divemaster or PADI IDC, then we are here to help you. Our PADI Platinum Course Director Marcel van den Berg has made a unique Divemaster and Dive Instructor Course Preparation Package that he will send to you by email when you book your course at Sairee Cottage Diving. Please click on the links below to get a taste of the preparation files that he will send to you.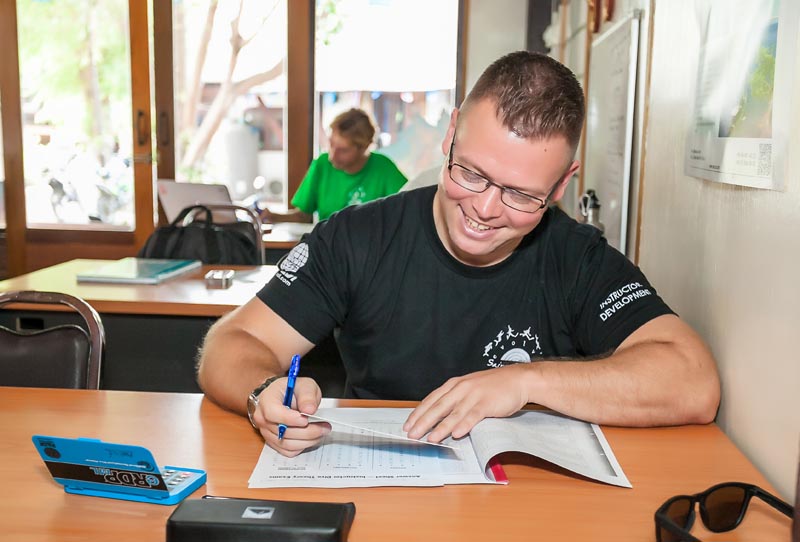 What are the best things I can do to prepare before I arrive at Sairee Cottage Diving?
There are a few things you can do to prepare for you PADI IDC and Divemaster training:
Watch our PADI Divemaster and IDC Skill Circuit Videos – During your PADI Divemaster and Dive Instructor Course you will need to learn how to give proper PADI diving skills demonstrations to your future students. The better you are at demonstrating these PADI skills the better your students will learn and the more employable you will be. Please check out the Sairee Cottage Diving PADI Divemaster and IDC Skill Circuit training videos here [Insert link to the Video page ]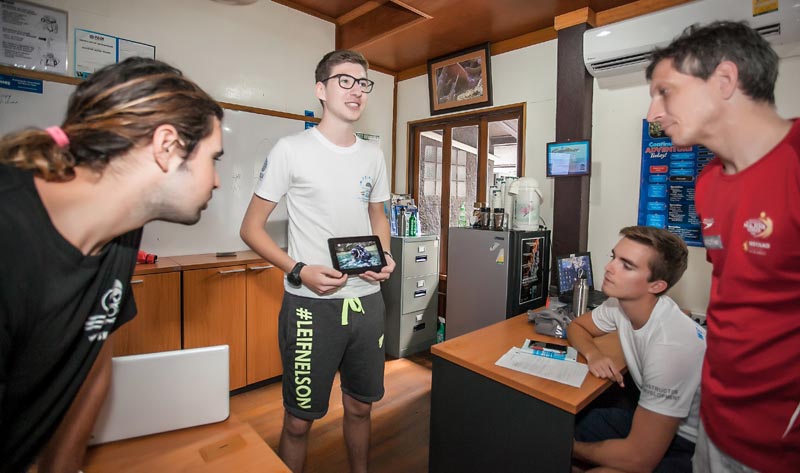 Learn Dive Theory – Some people think that when you become a Divemaster or Dive Instructor you will only lead dives or teach people how to dive, whilst enjoying life on a tropical beach. And, yes, this is mostly true but to be able to teach and to make sure that your dive students stay safe, you need to understand the basics of Dive Physics, Dive Physiology, Dive Equipment, Dive Decompression Theory, the PADI Recreational Dive Planner (RDP) and their electronic version of these tables (the eRDPml).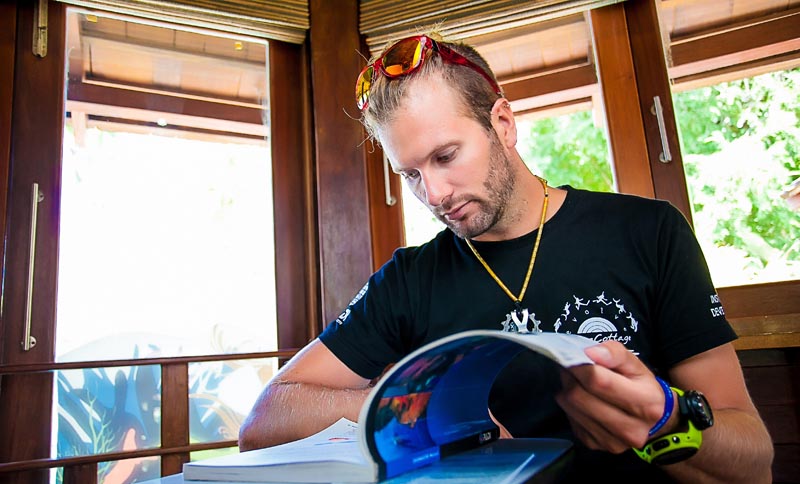 The good news is that this stuff is not Rocket Science and whilst we will cover the broad basics of dive theory, it's just a bit more information than recreational divers need to learn. However, we have seen this learning stage get complicated in the past by, for example, a student's language barrier, dyslexia, a lack of real-life dive experience or several other reasons. In any case, to help you, we have provided Dive Theory summaries on this website and we recommend that you study these summaries before you arrive to give yourself a head-start before your Divemaster and/or Instructor course here at Sairee Cottage Diving. The best way to learn this is to just read them a few times – it will even make your flight go quicker!
Complete all our Dive Theory Questions – After you have signed up for the PADI Divemaster or Instructor course with us and paid a small deposit we will send you more preparation files that will help you greatly with your chosen course(s).
Check out these links to prepare for the DM and IDC course:
Please SUBSCRIBE to our YouTube Channel to stay updated on our future training Video's here:
What if I don't have the time? Do I really have to prepare for my PADI Divemaster or IDC course?
Don't worry. Our Divemaster and Dive Instructor Courses at Sairee Cottage Diving are designed to make sure anyone can pass the final PADI Exams. This means that if you don't have any time to prepare before your PADI Go Pro Course you can still join any of our PADI DM and IDC programs. That said, the more you prepare before the course the easier and the more relaxed it will be, and you'll have more free time to enjoy the Island during the course. In other words you don't have to prepare, but it will help a lot if you can.
I'm already doing my course at another Dive Centre, can I still use this site for help?
Yes, please do! If you are already in a Divemaster course or doing your IDC somewhere else and you need more help then definitely feel free to use this site to make your life easier. And also feel free to spread the word and share these pages on Facebook and with your other candidates. Hopefully this will help many more Divers to succeed in becoming Divemasters or Dive Instructors enjoying 2 of the best jobs in the world!