The Instructor Development Course (IDC) on Koh Tao in Thailand
Where is the best PADI IDC in Thailand? Where is the best PADI IDC on Koh Tao? Which IDC Internship will get me the best job? How much money do I make as a PADI Divemaster or Dive Instructor? Who is the best PADI Course Director running the course…someone who not only cares about the quality of the course but also cares about my future?
As a PADI Platinum Course Director I get these questions all the time and here is my answer:
To be honest I think that most PADI IDC Centers on Koh Tao, Thailand are fantastic. You just need to find the right one that fits your personal needs in becoming successful as a working PADI Dive Professional.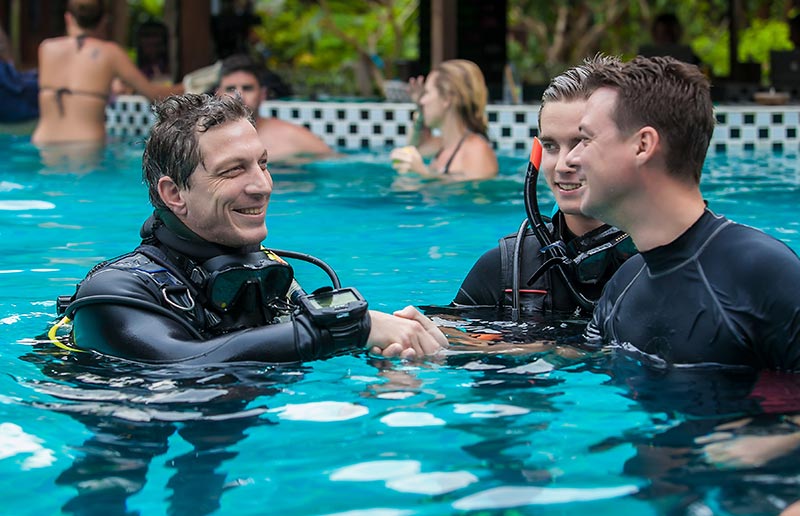 Personally, I am very proud to be working as a PADI Platinum Course Director teaching the IDC course at Sairee Cottage Diving (also located on Koh Tao). Sairee Cottage Diving gives me the opportunity to teach a uniquely designed Dive Instructor Course that strives for the highest of qualities, easily surpassing the minimum PADI IDC requirements to ensure that you will get a successful diving job after completion of the PADI IDC course on Koh Tao. Alongside this our facilities are, quite simply, excellent.
Student Reviews
Why Should You Become a PADI Diving Instructor (IDC) with Sairee Cottage Diving in Thailand?
"I remember when I had to choose where to do my IDC course. After going through the same thoughts, logistics of leaving home, finances and the decision of location, I realized that the first step towards becoming a PADI dive instructor is probably the hardest and biggest to take. I remember looking out of the window of my airplane leaving the Netherlands thinking: what am I doing, did I make the right choice?
But then I arrived in Thailand and saw an amazing new culture, climate, food, temples and so much more! Within a few days I arrived at my final destination: Koh Tao. Koh Tao is one of the best tourist and diving locations in Thailand and it didn't take long for me to realise that I have made the best choice of where to do my PADI IDC".
Marcel van den Berg
Learn more about PADI Platinum Course Director Marcel van den Berg on IDC-Guide.com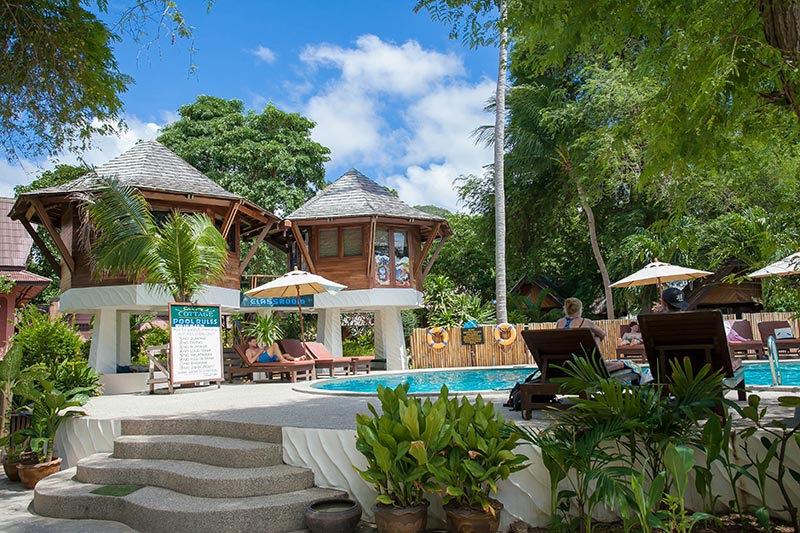 When you arrive on Koh Tao you soon realise the sheer amount of PADI IDC Dive shops and IDC Diving schools that there are on the Island. So, what is the best choice?
Like I said, choose a Dive shop and PADI Course Director that you feel most comfortable with. Sairee Cottage Diving offers all the facilities you'll need like a dedicated swimming pool, modern AC classrooms, the use of the newest teaching tools, and dive equipment like BCD's, Regulators and Dive Computers. to make sure you succeed in completing your Go Pro Course in a comfortable way. Our facilities and Dive Equipment are one of the Best in the Dive Industry!
Contact Us
Which PADI IDC Dive Package will be the Best for Me?
At Sairee Cottage Diving we offer all professional diving courses. You can choose to do the PADI Divemaster course, the PADI IDC (Diving Instructor course), the PADI Master Scuba Diver Trainer (MSDT) course, a Dive Instructor Internship course or even the PADI IDC Staff Instructor and the PADI Master Instructor course here. You can do the courses one by one, deciding after completing each level if you would like to continue as you go along, or, you can book one of our great Divemaster or IDC packages that will give you the best deal and will ensure that you will receive the best chances of work after completion. Please read all the pages on this website to find all the information on each PADI course, and then have a look at the different IDC packages that we offer here at Sairee Cottage Diving.
Especially have a look at the Instructor Career Package, which includes the PADI IDC, Emergency First Response (EFR) Instructor, PADI MSDT and a Dive Instructor Internship program. This is by far our most popular IDC package.
Contact Us
What if I need extra Help or Training during the Divemaster or Dive Instructor IDC course?
Every person is different and some learn faster then others. Maybe your English is not so strong? Maybe you did your Divemaster course a long time ago? Maybe you are fantastic in the water but less so with your understanding of Dive Physics or vice versa?
Don't worry! If you choose to do your Divemaster or IDC course with us at Sairee Cottage Diving on Koh Tao we will give you all the extra help and training you need to complete your Divemaster or IDC course in a comfortable, easy and fun way. We make sure that everyone leaves Sairee Cottage Diving as a dive professional with the highest quality of education and with the necessary credentials to find work and start their dive career straight away.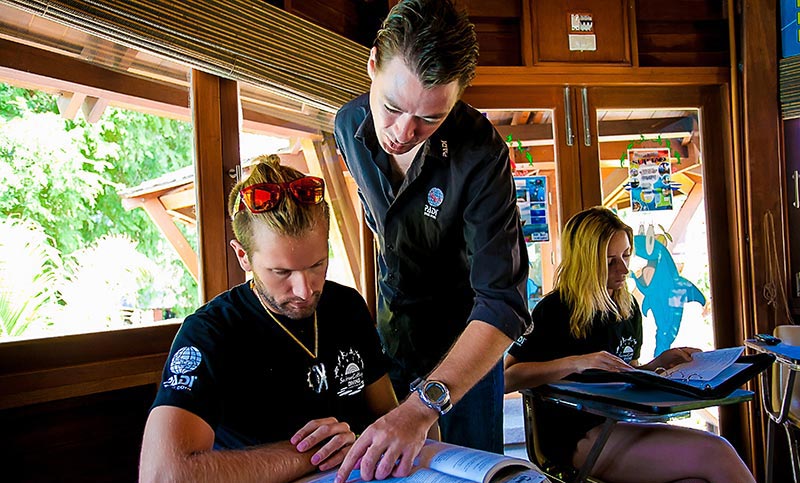 We call this the 5000% attitude and that will also hopefully inspire you to do offer the same to your future diving students. Our PADI Platinum Course Director Marcel van den Berg and Staff Instructors Maddy and Gaz are dedicated to your success. During past IDCs we have found out that some people need extra help. During the course, if needed, we will stay on after class every day up to 23:00 if needed. This doesn't mean that the days will be that long. Most days you will finish between 16:00 and 18:00. But if you need more time we will be there for you.
On top of this we have created a preparation package that will make your IDC course much easier if used before the start of the Dive Instructor course. We will send this preparation package to you when you book the course so you can start right away, even in your home country. Most of our PADI IDC candidates say that the flight to Thailand and the onward journey to Koh Tao seemed so much quicker and more fun whilst they were preparing for their PADI IDC en route using this preparation package.
Contact Us
Why are Koh Tao and Thailand considered one of the best destinations to do the Dive Instructor course (IDC)?
Thailand really is one of the best countries to do your Dive Instructor course. Thailand has some of the best diving in the world and that attracts a lot of people that want to learn how to dive. Now they can combine dive training with beautiful dive scenery in warm tropical waters. A lot of people come to Thailand and especially Koh Tao just to try out diving and "tick that box", and then realise that diving is the best thing they have ever done, then stay on to do more diving courses. Because of the high amount of new diving students, Thailand needs a lot of Dive Instructors to teach them all.
Doing your PADI IDC in Thailand really makes it easier to find work here. Because of the number of dive and teaching opportunities that Thailand offers, it has some of the best PADI Course Directors and best PADI IDC Dive Centres in the world. This is especially true for Koh Tao, a fantastic Island in the Gulf of Thailand.
Read more here about if it is safe to travel to Koh Tao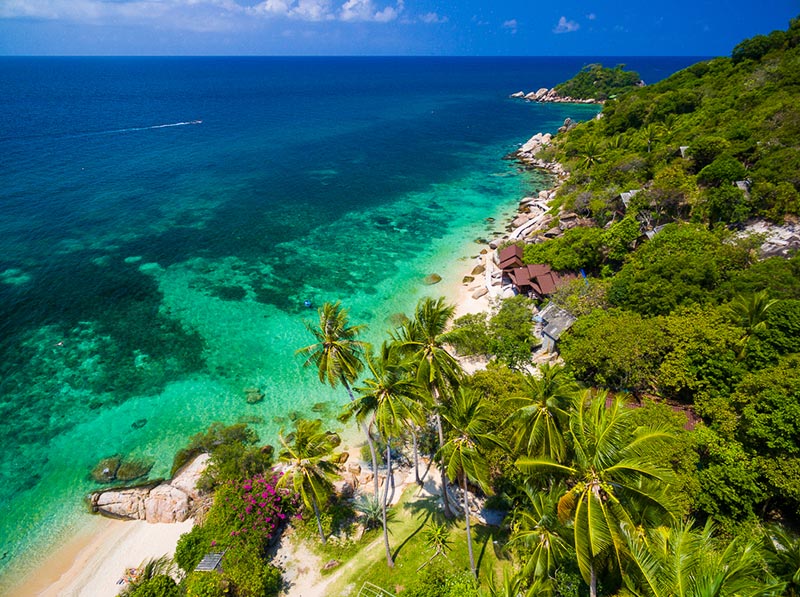 Besides the very high quality of IDC training on Koh Tao you will soon find out that Koh Tao is one of the most beautiful Islands in Thailand with stunning beaches, jungle and sunsets! All the dive sites are within 20 minutes from land and the conditions are good all year round. Besides the great dive sites, Koh Tao offers great restaurants, bars and many non-diving related activities so you will also have a great time when you're out of the water. If you talk to anyone that has been to Koh Tao they will say that it is the most addictive place in Thailand. That said, the world is a big place and there are many fantastic diving jobs for Diving Instructors all over the world when it's time to move on.
Please read this blog about how much salary you can earn as a PADI Diving Instructor
Our PADI Course Director Marcel van den Berg has many connections all over the world and because of his reputation for PADI Dive Instructors trained to the highest quality, many Dive Shops will give priority to people that did their IDC course with Sairee Cottage Diving on Koh Tao.
Contact Us
IDC Training Website
Through this IDC Website we offer extra help and training to all PADI Divemaster and IDC candidates worldwide with our selection of training videos, dive theory summaries and tips to help you succeed in your Divemaster and Dive Instructor course. This section will also help you to be well prepared for your PADI IDC Course. Please go to our IDC Preparation and Training section to learn more.
Eco Conservation
Sairee Cottage Diving is one of the forerunners of Eco Conservation on Koh Tao and together with many other Dive Centres we have setup an Eco Conservation movement called: "Get Involved".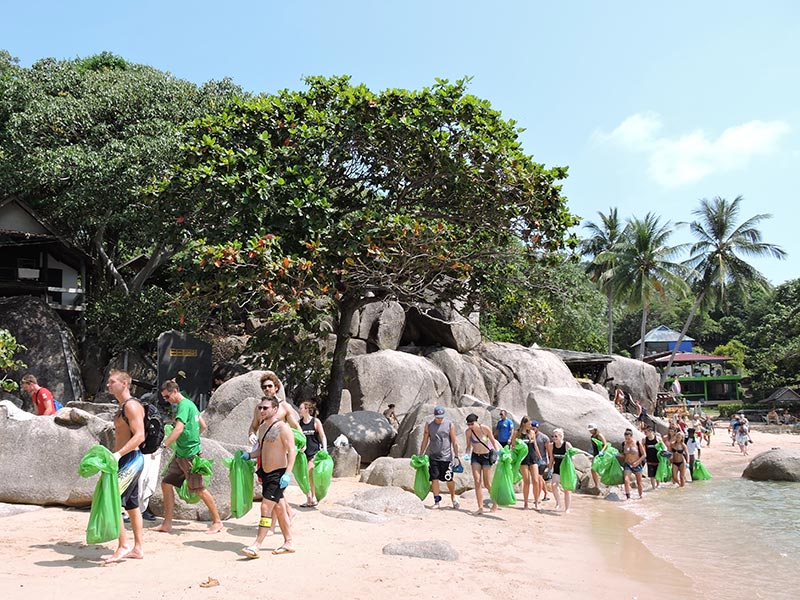 With Get Involved we organise monthly Eco Days where we team up with other dive centres to give conservation lectures followed by beach clean-ups, reef clean-ups and even constructing a new, large, artificial reef on Koh Tao. We also fight for the reduction of plastic water bottles, plastic straws and plastic bags. We offer free drinking water, free eco conservation shopping bags and we have a no plastic straw policy in Sairee Cottage Diving.
Read more about the Sairee Cottage Diving Conservation Eco Days
During your Diving Instructor IDC and MSDT Specialty course with us you will be encouraged to be very active in our conservation programs and activities. As part of the IDC we offer extra conservation lectures to ensure that you will be ready to teach eco friendly dive courses around the world, inspiring even more people to do what we do as PADI Diving Instructors in Thailand and elsewhere.
Real Life IDC Teaching
At Sairee Cottage Diving we teach one of the Most Realistic PADI Instructor courses on Koh Tao and, indeed in all of Thailand. One of the biggest problems that some IDC courses have in the dive industry is that there are many schools that teach the course as quickly as possible aiming only for the IDC candidates to pass the PADI Instructor Exam (IE) and only focusing on topics presented at the PADI IE.
Student Reviews
Of course, we understand that it is very important for you to pass the IE! However, we would also like to teach you a lot of Real Life information to become an even more competent and successful Dive Instructor. For this reason our PADI Platinum Course Director, Marcel van den Berg, has designed a Dive Instructor Development course with real-world Scenarios, more lectures covering Real Life situations, Real Life Water Presentations and one of the most realistic ways to give Classroom Diving Presentations.
This will ensure you to get and retain a successful Job in Diving as an already-experienced Diving Instructor.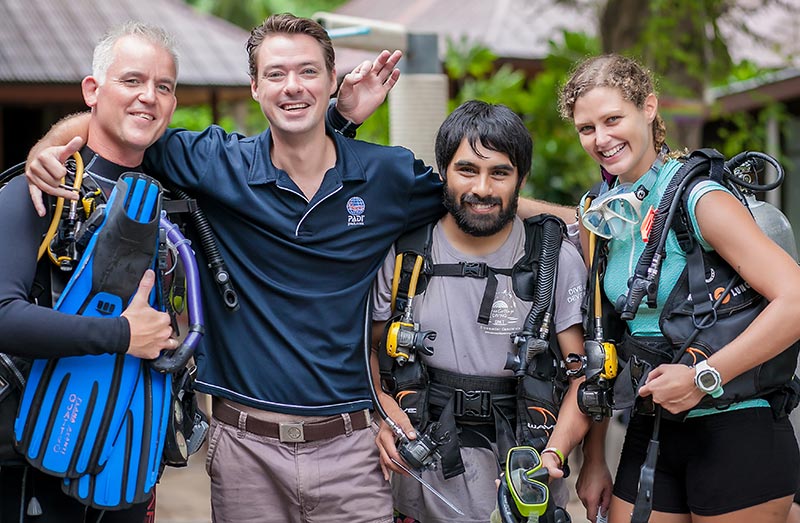 ---
Like & Share