The PADI Divemaster Internship at Sairee Cottage Diving is not just a course – it's a Life Experience! Every day you will realise how beautiful it is living and diving here on Koh Tao. To add to this, after completing this course you can work anywhere in the world as a PADI Divemaster!
Why join the Sairee Cottage Diving PADI Divemaster course on Koh Tao?
Sairee Cottage Diving offers one of the best Divemaster Internships in Thailand. A course that far exceeds the minimum standards necessary, teaching you so much more than most other Dive Schools in the world. With Sairee Cottage Diving it's all about Quality and it's our Goal and Mission here to set you on the path to a very successful career in the Diving World. Our Divemaster course is also designed to flow seamlessly into the PADI Instructor Development Course (IDC), which is also taught here at Sairee Cottage Diving, making the transition a very comfortable experience.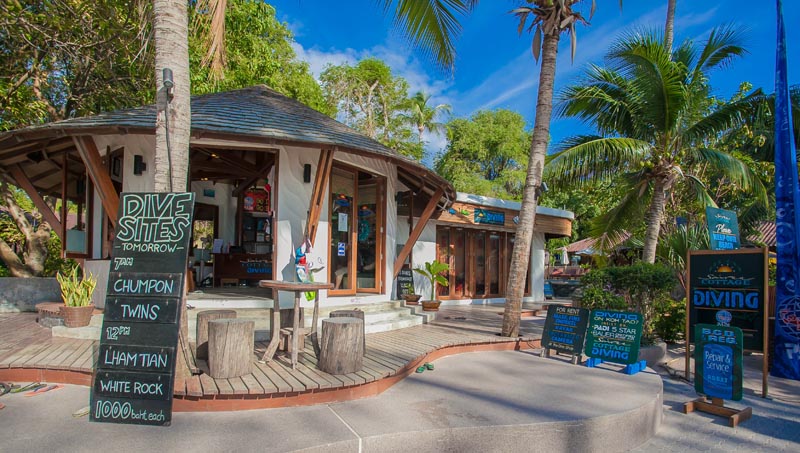 Koh Tao in Thailand offers one of the best diving locations in the world and our facilities at the dive school are of the absolute highest quality. At Sairee Cottage Diving we not only train you but also give you great work opportunities whilst you enjoy life in one of the friendliest Dive Centres on Koh Tao. You will have one of the best times of your life with us during your PADI Divemaster Course.
What will you learn in the Divemaster Internship at Sairee Cottage Diving?
Our PADI Divemaster course consists of the following:
You will complete knowledge development segments including Knowledge Reviews in the PADI Divemaster Manual or through "Divemaster Online", in order for you to pass the Divemaster Final Exam with top grades
Create an Emergency Assistance Plan for a designated dive site
Complete in-water skills exercises
Complete a diver rescue assessment
Complete the dive skills workshop and assessment
Complete practical application skills
Complete Divemaster-conducted programs workshops
Complete practical assessments
Meet the professionalism criteria
Also, at Sairee Cottage Diving, we teach a lot more on top:
Extra Divemaster Skill Circuits
Extra Assists on all PADI Dive Courses
Extra Advanced Risk Management Lecture
Extra Advanced Business and Marketing of Diving lecture
Extra PADI Standards Lecture
Extra Dive Physics Lecture
Extra Dive Physiology Lecture
Extra Dive Skills and Environment Lecture
Extra Dive Decompression Theory and Recreational Dive Planner (RDP) Lecture
Extra Dive Equipment Lecture
Extra Social Networking and Blogging Lecture
Extra Marine Conservation Lecture and Program
And there's more…
Marine Conservation Education at Sairee Cottage Diving on Koh Tao:
During your Divemaster Course you will spend a lot of time on "Eco". Sairee Cottage Diving is one of the leading Dive Centres in Thailand to conduct Eco Programs especially for our DMTs. The surface of the Earth is around 70% water, and as it is on land, we also see the negative environmental impacts of human activity in our oceans. During your PADI Divemaster course in you will learn about all these impacts, encouraging and inspiring you to take action.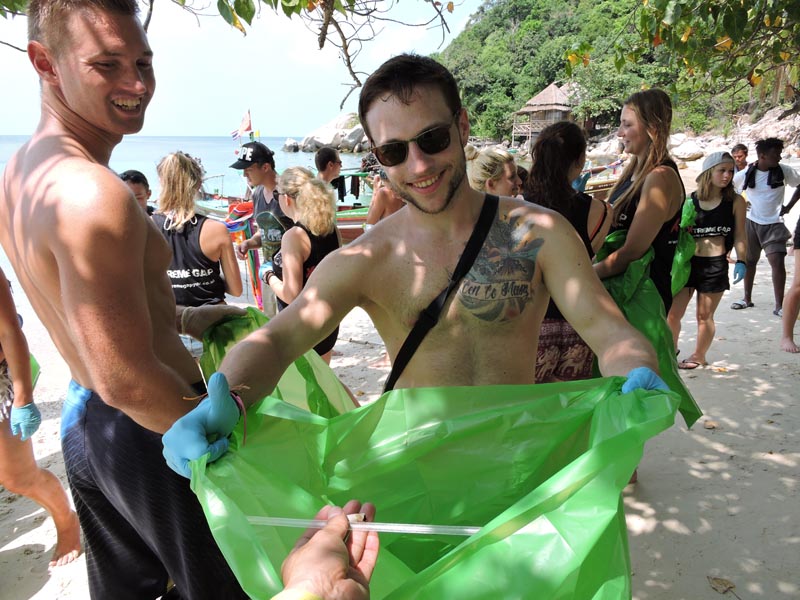 Sairee Cottage Diving supports many environmental organisations especially Project AWARE. We have won many awards for our Eco Programs and you can be a part of that, becoming an ambassador for the oceans, making the world a better place and inspiring others to do the same.
Schedule:
While some other Dive Centres in Thailand offer the Divemaster course in only 15 days, we have created a PADI Divemaster Internship program that takes at least 6 weeks. A quick 15-day Divemaster course will be very short and your subsequent level of experience will be really very low if you do choose a program like that. At Sairee Cottage Diving, in our minimum 6-week program, you learn a lot more than most other Dive Centres offer, gaining lots more experience whilst still having free time to enjoy life on the paradise island of Koh Tao.
Our Divemaster schedule is open, which means that you can sign up any day for different sections of the PADI Divemaster course. Every week we will write out a list of classes that you are free to join or, if you want, take some time off (every Sunday is a day off). We can even make personalised DMT training schedules for you to ensure that you will get the best training in a comfortable time frame. Please read the Divemaster PDF for more information about the structure of the Divemaster Internship at Sairee Cottage Diving.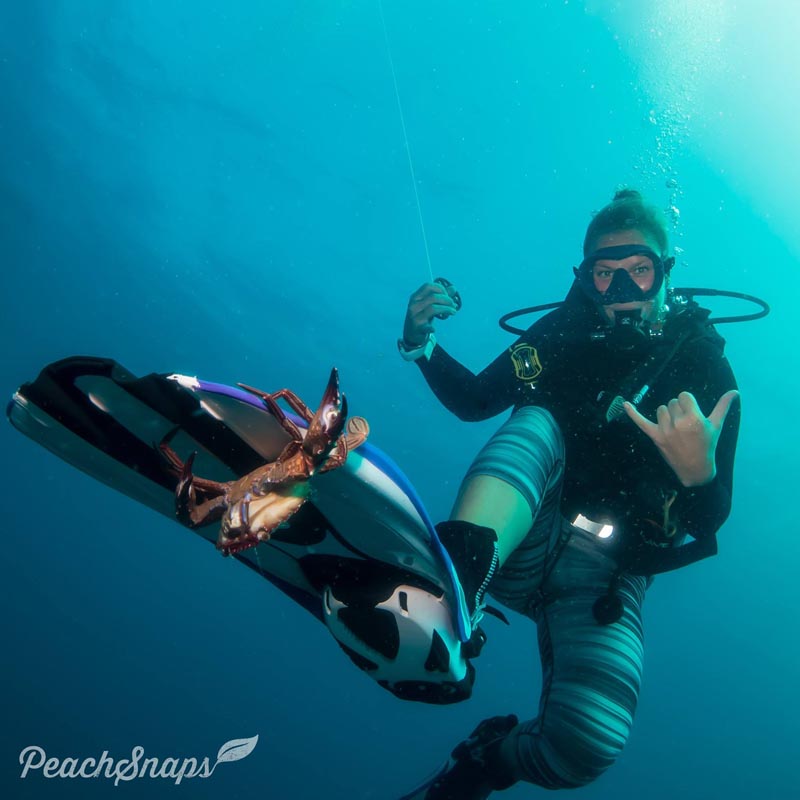 Prerequisites PADI Divemaster course:
Certified as a PADI Advanced Open Water Diver and PADI Rescue Diver (or qualifying certification from another training organization)
18 years old
Logged 40 scuba dives (we will give you Free fun dives if required)
Completed Emergency First Response (EFR) Primary and Secondary Care training within the last 2 years
Medically evaluated and cleared for diving by a physician within 12 months
Divemaster Course Prices:
PADI Divemaster Course: 33000 THB
PADI Divemaster Crewpack (Books): 7500 THB
PADI fee: 196 Australian Dollars (AUD) paid directly to PADI by card at the end of the course
What awaits you after completing your Divemaster Internship?
After completion of your PADI Divemaster Course with us at Sairee Cottage Diving, Koh Tao, you can start working in the Dive Industry anywhere in the world. You can assist Scuba Diving Instructors on their PADI Courses, lead fun divers, manage dive boats, conduct refresher courses like the "PADI Reactivate" program and a whole lot more! With our high-end reputation, you will also have a head start applying for work on Koh Tao and indeed, the rest of Thailand or the world.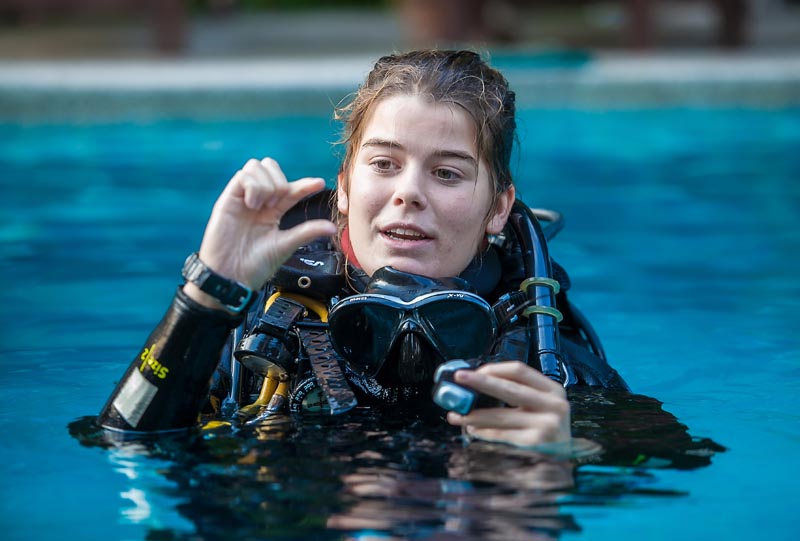 If you then want to continue your education and be able to actually teach PADI dive courses then your next step is to become a PADI Dive instructor with us too.
Please ask us about the great professional diver packages we offer at Sairee Cottage Diving.