I grew up in a little town in the western part of Austria surrounded by mountains and snow. Never did I dream of becoming a Master Scuba Diving Instructor! After completing my law degree and working in that field I needed some time out so I decided to go on a round the world trip and, like most people became mesmerised by the lifestyle people were leading.
Like many backpackers I did my open water course during my travels around Southeast Asia (for me it was the start of an around the world trip). Koh Tao was the place to do it I was told, so I ended up spending a few days in this little Thai Paradise before I moved on with my certification card. Only after a few weeks when people were asking me what I had done so far during my travels I realised what an important role this diving course played for me.
As time went by I forgot about my underwater experience and ended up teaching in a bilingual school in Honduras far away from the coast for some time before moving to Australia where I was surrounded by water again. After some fun diving in Indonesia I knew I had to go back to Ko Tao to continue my education during the next holiday. The place I chose was Sairee Cottage Diving as I heard from many friends that it was by far the most professional run dive company on the island. So I finished my Advanced and Rescue Course there with two very passionate instructors (Gordon and Bobby).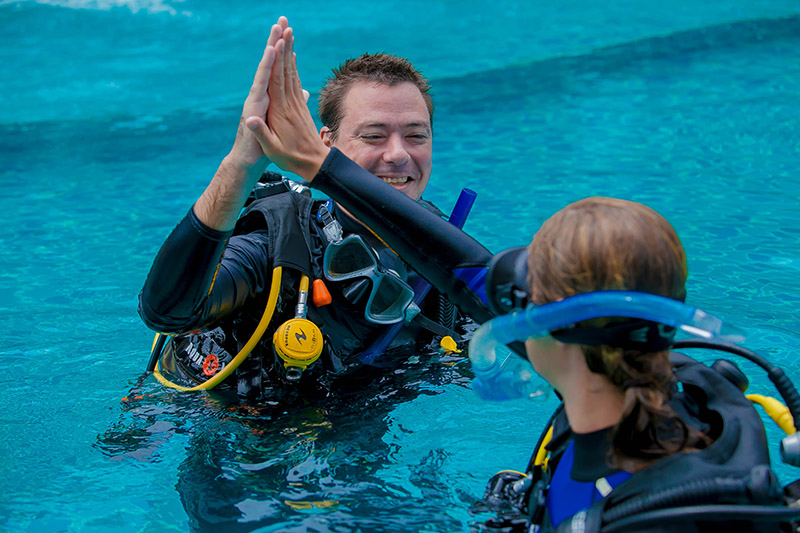 When I came back home I was determined to take the big step into an unknown future by becoming a professional Diver. So I saved some money, put my life into a box and booked my one way ticket to Ko Tao.
My Divemaster Course at Sairee Cottage started off with forty fun-dives followed by many course assists, interesting theory and pool training sessions with my Divemaster Candidate Mentors Jessie and Gaz. Sairee Cottage expects a lot more training from you than other schools therefore I was very well prepared to get into my Instructor Development Course straight after becoming a Divemaster.
My IDC was conducted by PADI Platinum Course Director Marcel van den Berg and two Staff Instructors (Flavius Sleutelaar and Shannon Durrant). My Course colleagues and I couldn't have been in better hands with this dream team. They went way beyond what was expected of them and looked like proud parents saying goodbye to their children when we went to our Instructor Exams.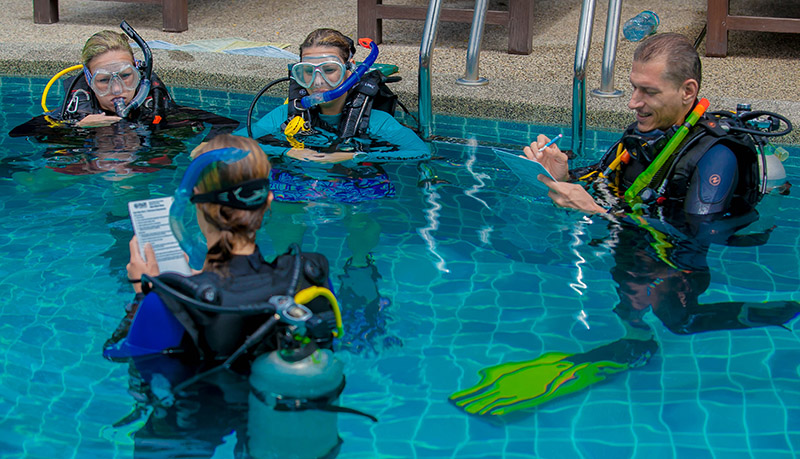 Becoming a Master Scuba Diving Instructor
My Divemaster, IDC and MSDT Course at Sairee Cottage on Koh Tao were influenced by beautiful friends I met along the way. I will also never forget my mentors. It was the little things that made me feel so comfortable and welcome there. Being in the water for me is like being free; it is pure happiness and joy and I will make it my mission to show others.
When people tell me how brave I am I often laugh. Whoever raises a family and pays off a mortgage is brave in my eyes. I swapped my courtroom for a long tail boat my suit for a bikini and my car for my little motorbike that gets up any steep hill. I am doing what I love and want to prove that everyone can do that.
If you have any questions on becoming a Master Scuba Diving Instructor then don't hesitate to leave a reply here or contact me (feel free to write it in German if that's easier for you) on sprenger.maria@gmail.com
Become a Dive Instructor in Thailand at one of the best dive schools in Asia and get your PADI Instructor certification after completing your PADI IDC program. Thinking of becoming a Master Scuba Diving Instructor? Take the MSDT Internship at Sairee Cottage Diving. This is an eco friendly IDC program including free environmental lectures on topics such as ProjectAWARE and CoralWatch. Watch dive instructor videos on our YouTube channel.
Please Leave a Comment below